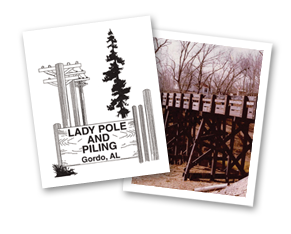 About Us
Lady Pole & Piling has been owned and run by the Brown family since it was incorporated in 1994 by the late Rebecca W. Brown. Her husband, Walter, and son Clinton, continue the tradition of first class service that she started. Walter Brown, president, has over 35 years experience in the wood industry beginning in sawmilling. Clinton Brown is a 2008 graduate of the University of Alabama in mechanical engineering and has seven years experience with Lady Pole & Piling. Our reputation has been built on supplying superior wood products to the standarts and specifications of our customers throughout the United States.
Service
We know that fast and efficient delivery is important. Having a product when and where you want it is both cost and time efficient. Product availibility, with large inventory of poles and piling always on hand, insures prompt access to what you need without tying up your resources prior to the need for the product. Deliveries can be made to no site projects/jobs with boom unloaders or to your warehouse/business depending on your preferences.
Southern Yellow Pine
SYP has become the preferred standard for poles nad piling for many reasons. It is a renewable resource, it has strength and durability, it accepts preservatives reliably, and it is readily available. As its name suggests, if the pine did not grow in the south it is not SYP.
Commitment
We are loyal to you our customer. Our reputation for dependability and delivery of quality product fosters continued customer confidence and satisfaction that has allowed mutual growth and prospering. We respect and understand the needs of the customer and strive to stay in touch with the expanding volume of resources available to assure that all of you needs are met.